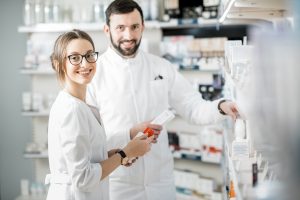 Over the past decade, pharmacies have been taking on more patient care, such as vaccinations, general health care inquires, and in some instances, mental health guidance. With this expanded scope of practice, many pharmacies are struggling to find coverage when faced with increased demand, or if a staff member requires time off. Historically, other team members would step in. With the expanded patient care, it makes it harder to do this, so many pharmacies look for temporary relief staff. It can be a significant challenge for pharmacy owners to get reliable temporary staff to cover vacations or unscheduled absences such as family emergencies and sick days. This is even more true for pharmacies in remote areas or small towns where access to additional pharmacy professionals is limited. Many pharmacy owners and managers have turned to staffing agencies to help fill temporary staff shortages.
Advantages of Using a Relief Buddy vs. a Traditional Staffing Agency 
Using a staffing agency is time-consuming, and in many cases, the pharmacy owner has no control over who is selected to work in their pharmacy. With increased care expectations and heightened protocols, owners and managers need to understand who will be working in their pharmacy.
Relief Buddy is looking to change how pharmacy owners and managers can fill temporary vacancies. Through the app, an owner can set up their profile and manage multiple pharmacies under one profile. With technologically advanced features, creating a shift has never been easier. Owners simply select the required skills, the software system used in the pharmacy, and the hourly rate, to name a few. These details are matched with candidates that have the required skills for the shift, and only these candidates are able to apply for the shift. Owners are in full control over who will come to work in their pharmacy and can see detailed information of the candidates that have applied for their shift. With this transparency, pharmacy owners and managers can choose the candidate who will fit best versus relying on a third party to select the candidate for them.
Pharmacy professionals that match the required skills are notified immediately of the new shift, and the pharmacy owner is notified of new applicants in real-time, reducing the time it takes to find relief staff. Owners will only receive applicants that match the skills required, cutting down on the back-and-forth emails and phone calls that may come from traditional agencies. For small-town and rural pharmacies that face a more significant challenge in filling relief shifts, the option to include an incentive, such as covering the cost of travel expenses, is an option, casting an even greater net and incentivizing pharmacy professionals to apply to the shift if they are from out of town.
Finding reliable relief staff is always a challenge. It is hard to know how professional someone is until they are already in your pharmacy. By having the ability to view detailed candidate information, including performance ratings, Relief Buddy gives owners access to the resources they need to confidently choose the best candidate with the best fit for their pharmacy. After each shift, giving performance ratings ensures pharmacies continue to have access to the highest quality and dependable relief staff available.
We all like to make money. Traditional staffing agencies typically have high commission rates and offer low wages to relief staff, which can lead to a lack of quality placements. With Relief Buddy, the fees are often 50% less than traditional agencies ,giving more money to the relief worker. By offering more money, the candidate's quality increases, giving pharmacy owners the confidence to hire relief staff through Relief Buddy.
Our mission is to be the trusted staffing solution for the pharmacy industry, providing support throughout the pharmacy staffing life cycle (from student to retiree). We encourage you to be pro-active in having access to the highest quality and professional relief staff. Take a few minutes to download the Relief Buddy app and set up your profile. That way, when you do need to find relief staff, help is at your fingertips!