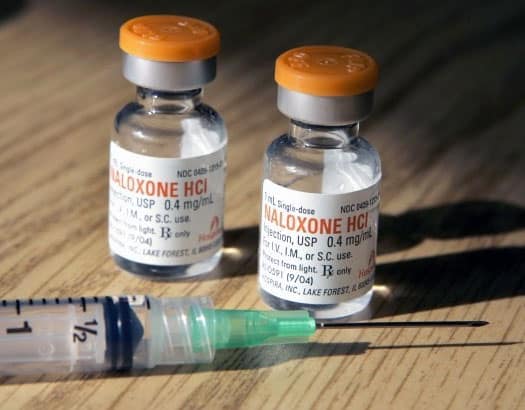 As of June 24th 2016, Naloxone was changed to a schedule II drug, making it available without a prescription for emergency use outside the hospital setting. This change unequivocally enhances public access to this critical medication. Naloxone is a safe, non-addictive opioid antagonist that can temporarily reverse life-threatening effects of opioids including sedation and respiratory depression. Naloxone can potentially save lives when used appropriately in a timely manner. It's important to note that opioid overdoses can occur even at regularly prescribed doses so being able to identify an overdose is critical in the treatment process.
As a pharmacy professional, you keep hearing that opioid-related deaths in Canada are currently on the rise. It's hard to believe that despite the 2012 news of the withdrawal of Oxycontin from the market, opioid overdoses continue to be a devastation in society. While the dispensing of oxycodone dropped by 44%, hydromorphone and fentanyl dispensing increased by 56% and 16% respectively.
According to the Office of the Chief Coroner of Ontario, oxycodone-related deaths did indeed decline after the removal of Oxycontin; however, the overall rate of opioid-related deaths continued to rise. That being said, with only a select few provinces actively reporting these overdoses, those figures are likely an underestimation of the true extent of opioid-related overdoses in Canada. Opioid abuse continues to be a challenge and pharmacists play a vital role in recognizing and treating these time-sensitive health issues.
For more information visit the Ontario College of Pharmacists' website below which offers full guidelines for the dispensing and selling of naloxone, http://www.ocpinfo.com/library/practice-related/download/Naloxone.pdf
SYMPTOMS TO HELP IDENTIFY OPIOID OVERDOSE:
● Miosis, constricted pupils
● Respiratory depression – reduced respiratory rate or tidal volume
● Gurgling or choking sounds
● Muscle flaccidity
● Blueish coloured lips and clammy skin
MYTH BUSTERS:
You can only use Naloxone if you are sure that the patient has ingested opioids.
FALSE: Naloxone is safe to use for any opioid overdosage. The only contraindication to its use is a hypersensitivity to naloxone itself. If naloxone is administered in the absence of an opioid, no effect will be exhibited.
Naloxone will make patients more susceptible to risk-taking behaviours and abuse.
FALSE: Naloxone has not been proven to increase the likelihood of risk taking behaviours and it cannot be abused.
Naloxone can reverse non-opioid overdoses including illicit drugs (cocaine, ecstasy, alcohol).
FALSE: It cannot reverse non-opioid overdoses, however if there are multiple substances suspected in an overdose, it can temporarily counteract any opioids that were ingested.
Naloxone works effectively in reversing Tramadol overdoses.
FALSE: Naloxone can only partially reverse the effects of tramadol and can actually increase the risk of tramadol-associated seizures.
It is of utmost importance that patients and their agents are properly counselled to understand the implications and seriousness of an opioid overdose and the place in therapy of a Naloxone Kit. In addition to training them on the actual method of administration, they should be counselled on the importance of performing CPR and calling 9-1-1. They should be cautioned regarding the withdrawal symptoms that may occur after naloxone administration and a the discussion should outline the associated benefits and potential risks. It should be emphasized that the benefits will, in most cases, outweigh the risks since the use of one or two ampoules of naloxone will usually only produce mild withdrawal symptoms. Patients and their agents should also be notified of the risk of a secondary overdose should opioids be ingested after the administration of naloxone.
Pharmacists are in the best position to be able to identify and help treat opioid overdoses as they are on the front lines, and arguably the most accessible healthcare professionals. It's long overdue for pharmacists to be able to contribute and aid in the opioid crisis. A small reach for help can go a long way for patients experiencing an opioid overdose. It can be a defining and potentially life-saving moment.
SOURCES:
1. http://www.camh.ca/en/hospital/about_camh/newsroom/news_releases_media_advisories_and_backgrounders/current_year/Pages/Restrictions-on- prescribing-oxycodone.aspx
2. Opioids; CPhA monograph, e-therapeutics.ca
3. University of Waterloo – Video