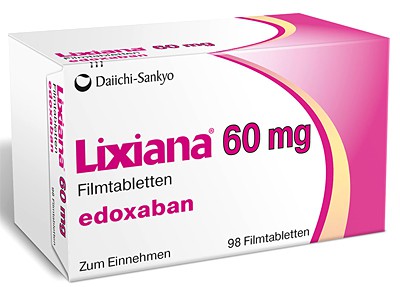 Lixiana (edoxaban) will join Eliquis, Pradaxa, and Xarelto in early 2017 as the fourth Canadian direct acting oral anticoagulant.
What It's Used For:
It will be indicated for the prevention of stroke and systemic embolic events in patients suffering from atrial fibrillation as well as for the treatment and prevention of DVTs and PEs.
How It Works:
Edoxaban is a direct inhibitor of factor Xa, which is responsible for cleaving prothrombin to its active form thrombin.
How It's Dosed:
Stroke prevention – 60mg once daily
Treatment and/or prevention of DVT ad PEs – 60mg once daily after and initial round of heparin for 5-10 days.
Dosing considerations:
Renal impairment (CrCl 30-50 ml/min) – 30mg once daily; not recommended if CrCl <30 ml/min
Low body weight (<60 kg) – 30mg once daily
No dosage adjustment is needed for those with mild to moderate hepatic impairment however there is no data to support to the use of edoxaban for patients with severe hepatic impairment.
Duration of use should be individualized; patients with transient risk factors such as surgery, can be given edoxaban for a shorter duration, but should be on it for at least 3 months.
Side Effects:
Most common side effects are similar to other direct acting oral anticoagulants: Bleeding is the most common and often the most severe adverse event.
Drug Interactions:
When used with P-gp inhibitors (ex. erythromycin, cyclosporine), increased levels of edoxaban may occur, therefore the dose of edoxaban should be reduced to 30 mg once daily.