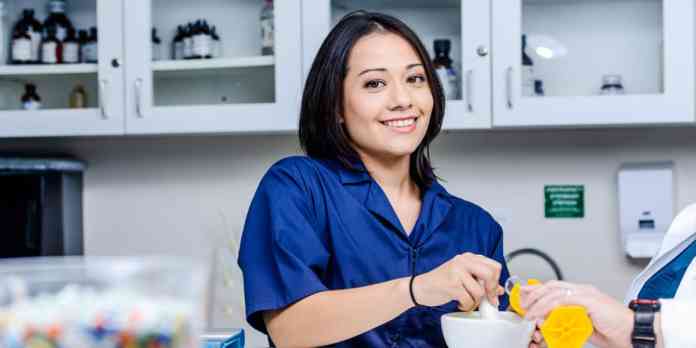 It is well known fact that behind every great pharmacist is an excellent pharmacy technician. Pharmacy technicians are the backbone to every pharmacy and a staple to the integrity and efficiency of the workplace. Now that Pharmacy Technicians can opt to become registered with the college, they are able to work within the expanded scope of practice guidelines and be accountable for their work.
Here are some of the ways that having a Registered Pharmacy Technician (RPT) can help improve productivity in your workplace, which enables pharmacists to spend more of their time delivering clinical and cognitive services:
Best Possible Medication Histories
Generally speaking, most pharmacies have their pharmacy assistants running the drop off counter and helping patients dropping off prescriptions. Registered Pharmacy Technicians can now go one step further by probing patients for more detailed information about their medication use. They can check patient profiles and gather information regarding dose and medication changes and compile a thorough medication history. This will ultimately help pharmacists when they are completing the final therapeutic check to ensure they have all the relevant information they need. By extension, this will reduce the number of prescription cancellations and delays from rework and, most importantly, will act as an extra safety net to reduce dispensing errors. RPTs can also be trained to spot irregular refills and identify patients who may benefit from adherence and compliance counselling.
Verbal Orders and Transfers
Registered Pharmacy Technicians can now take on the responsibility of receiving verbal orders from prescribers and authorize prescription transfers. As these are often time-consuming tasks, it will free up more time for the pharmacist to focus on their clinical roles. RPTs should be trained to be mindful of controlled substances and seek pharmacist intervention when needed.
Filling and Technical Checks
RPTs can now go beyond regular prescription filling duties. They can now take on the responsibility of identifying appropriate auxiliary labels and perform a final technical check. Technical checks include verifying that the drug filled matches the prescription and ensuring it is accurate and complete. In an ideal situation, with two RPTs on duty, you would want a tech-checks-tech scenario to eliminate any confirmation biases. However, a single RPT can still be trained to check their own work accurately and efficiently. It is important to remind staff that it is ultimately the pharmacist's role to ensure that the medication dispensed is therapeutically appropriate, but that the technical check remains a vital part of the process and needs to be done with meticulous attention.
Device Training
RPTs can provide a wealth of support to patients by offering help with device training. This includes anything from glucose monitors and insulin pens to inhalers and suppositories. By allowing RPTs to take on the responsibility of device training, pharmacists will be afforded the
time to focus on managing the patient's condition. It is important to remind RPTs to refer any clinical questions that arise to the pharmacist.
Clinical Services Support
With the extra training RPTs receive for licensure, they can better identify patients who could benefit from clinical services such as MedsChecks, Flu shots and Smoking Cessation Counselling. Registered Pharmacy Technicians can play an important role in flagging patients with chronic illnesses that may need a thorough medication review or refill reminder as well as patients with acute illnesses who may benefit from a follow up call. RPTs can help prepare all the necessary documentation needed for these services, which will further streamline the process and make the workflow more efficient.
The integration of the Registered Pharmacy Technician role will undoubtedly make any pharmacy workplace more efficient and improve patient satisfaction, which will ultimately increase business revenue. The effectiveness of the RPT relies heavily on the ability of the pharmacist to delegate tasks and allow their staff to fully exercise their expanded scope of practice.